Silicon Blades, wedges, spatulas, dough cutters and bowl scrapers.
Neither a brush, nor a palette knife, these blades and wedges are excellent tools for moving Cold Wax and oil paint around, especially, where large volumes are repeatedly applied.
Easy to use and to clean, particularly, useful for incising, patterning and scraping.
Dough cutters and bowl scrapers come in a wide variety of shapes and materials, from plastic to silicon, very versatile. Good for removing areas of wax and solvent, additionally, use for pattern, texture and marking.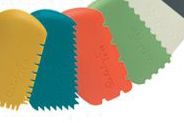 Catalyst Wedges