Cold Wax Painting Medium
made in the UK


Fine Art Materials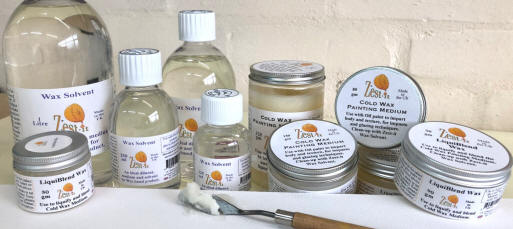 Zest-it® Cold Wax products for Artists.


Zest-it Cold Wax Painting Medium

It's a smooth, thick, Cold Wax paste, that is firm in the pot and easily moved with the palette or painting knife. Mixed with Oil paint it adds texture, body and visual depth. It increases the work-ability and decreases the drying time of the wax/oil mixture, heat is not needed or recommended.

The Cold Wax Painting Medium is a mixture of Natural Beeswax, Linseed Oil and Gum Damar. It took time to develop and is an evolution of numerous traditional wax painting medium recipes. The Cold Wax Painting Medium dries to a very cohesive and stable 'finish', much better than that of a beeswax candle.

The Wax has under-gone rigorous tests for stability, adhesion, archival qualities and safety of use.


Cold Wax Painting Medium


Wax Medium link....
ArtywaxShop

Wax Solvent


Zest-it Cold Wax Solvent

Is ideal for thinning the Cold Wax Painting Medium or a Cold Wax and Oil mixture. Add just a few drops of the solvent to obtain the consistency needed.
Can also be used for thinning the wax mixture and pigment to make glazes. Like the Cold Wax Painting Medium, the solvent is non-flammable, non-toxic and biodegradable.

Use the Zest-it Cold Wax Solvent for cleaning brushes, painting knives, canvas mistakes, palettes and painting tools. After brush cleaning, decant the fluid, save and label for reuse.

Zest-it oils, mediums and varnishes all work with the Cold Wax Painting Medium, they give a change of consistency to the wax/oil.

Zest-it LiquiBlend

Zest-it LiquiBlend Wax is non-toxic, non-flammable, creamy white in colour and made from Beeswax and Gum Damar. It has a mild resinous, citrus, waxy smell.

Add as required to Cold Wax Painting Medium to liquify the working properties, whilst keeping the integrity of the Cold Wax. Because the LiquiBlend Wax thins the consistency it allows more blending of the wax.

LiquiBlend Wax can be used as a good vehicle for pigments, powders and solid media. Apply with brush, painting knife, roller or other tools, clean-up with Wax Solvent. ArtywaxShop LiquiBlend Wax


LiquiBlend Wax

Brushable Wax Resist


Zest-it Brushable Wax Resist

Zest-it Brushable Wax Resist is non-toxic, non-flammable, it is a creamy white colour and made from renewable source Beeswax and Gum Damar.

Apply to paper or other porous surfaces as a wax resist, the area covered with wax will retain its original colour. The Brushable Wax resist is best applied with a brush and a little goes a long way. The wax will resist the water media applied over the top.

Dry pigment, powders and glitter can be added for different effects.
Textile artists use it as a cold wax Batik.

ArtywaxShop Brushable Wax Resist


Cold Wax Additions

Cold Wax Additions are to help extend the different ways you can use the Cold Wax Painting Medium, by way of texture and impasto.

Marble Dust is regularly added to various art materials to give strength and/or texture. We have also introduced Slate Dust, a fine grey powder and Limestone Dust which has a creamy colour.
Sand I don't think needs any introduction, but it is clean dry and suitable for art use. There is also a very fine Graphite Powder, this allows for some very subtle darks. The Chalk has a lightening drying effect.

We have these products in our Artywaxshop



Surfaces for Cold Wax

Surfaces for painting.

There are many surfaces onto which you can paint Cold Wax Painting Medium and Oil paint, Cold Wax Medium alone and Cold Wax with mixed media.

The image right shows a selection of surfaces, which include, watercolour paper, watercolour-board, oil paper, raw canvas, oil primed canvas, canvas-board, gesso-board clay-board, oil primed board....etc. There are numerous choices, perhaps only limited by the way the wax/oil will be applied.

Cold Wax Painting is a renascent subject with few rules and restrictions, consequently, very freeing. Different surfaces.

Brushes for use with Cold Wax

Bristle brushes are best for use with the Cold Wax Painting Medium, they have the strength of filament to hold the weight of oil paint and wax mixture. The brushes come in a variety of shapes, sizes and prices.

Even large round brushes, like those shown to the right, can produce delicate marks and impasto effects when the wax and oil mixture is stippled onto the surface. A selection of flat brushes will also be useful.


Do you read 'blogs' try - the false information about Zest-it Cold Wax Painting Medium



Round Bristle Brushes


Painting Knives


Painting Knives for use with Cold Wax

Painting knives are valuable tools for use with Cold Wax Painting Medium, either for scooping up the wax or for mixing with the oil paint. Knives with a 'cranked' handle are often the preferred type, they are flexible and responsive.

The image left gives a good idea of the types, styles and makes of painting knives available. Some have the handle welded to the blade, I much prefer the all-in-one blade for responsiveness and the tactile return of the applied mixture.

Updated 20.July.2022

Copyright 2001 - 2022 © Jacqui Blackman. All Rights Reserved Worldwide.
The information contained herein is the Intellectual Property of Jacqui Blackman and
J. & T. Blackman Ltd., and is supplied without liability for errors or omissions.
Zest-it ® and its

logo are Registered Trademarks.
No part may be reproduced or used except as authorized by contract or other written permission, unless stated otherwise.
The copyright and the foregoing restriction on reproduction and use extend to all media in which the information may be embodied.