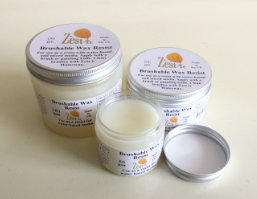 Zest-it Brushable Wax Resist
Zest-it Brushable Wax Resist
A wax medium that can be used as a resist in watercolour painting and that is thin enough to paint with!
Works really well on paper, easy to apply with a brush, it is for 'leaving as part of the work' please think about that before applying!
Demonstrated on Hochanda (11am/3pm 17.Jun.19) and used for 'stamping', with oil pastel on cloth, with a 'pipette bottle' to apply like Batik, on paper, canvas, fabric and cloth.
Brushable Wax Resist in the ArtywaxShop or at Teaching Art