Another Blog about Cold Wax
Comparing Cold Wax Mediums by Sally Hirst and Julie Caves: Jackson's Blog

In this blog the reviewer didn't bother with the correct information and instead, conjured-up the following as the solvent in our Zest-it Cold Wax Painting Medium:-

"A citrus-scented turpenoid" (false information)
Circled in blue in the snippet below taken from the blog.
This is so misleading and untruthful.
There is not a chemical solvent that is called a 'turpenoid'.
'Turpenoid' is the Registered Trade Mark of products belonging to an American company!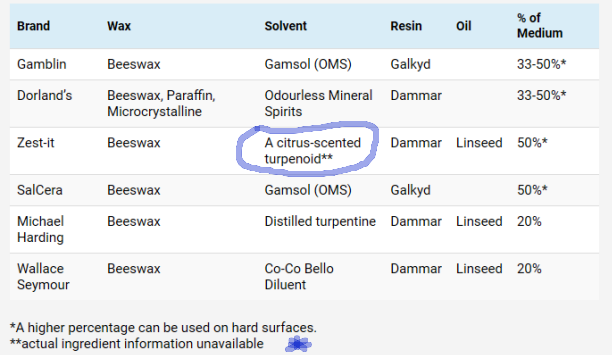 The stars at the end of the falsehood indicated at the bottom by the blue star say -
'actual ingredient information unavailable' - this is more misleading information. (false information)
Every Zest-it product lists the ingredients it contains.
If it had been a researched and unbiased review, the reviewer would have put 'Zest-it Diluent' in the same way as it was expressed for Co-co Bello.
As this blog was a "product comparison", should the review have also included flammability?
It's a question workshop participants often ask, because very few buildings allow flammable products to be used. It's not just liquids that can be flammable!
Most of the Cold Waxes listed on the snippet above are flammable solids.
The exceptions are Co-co Bello Beeswax Paste and Zest-it Cold Wax Painting Medium.
Important comparison information missing for the public.

In a 'product comparison' normally same or similar products are the subject.
It was therefore unfair to include the Michael Harding and Wallace Seymour products, both of which have higher oil content than wax!
They are beeswax and linseed oil paste additives for oil painting, not considered to be a Cold Wax. Nor does the relevant product information indicate that they are designed as Cold Wax.
More misleading information and an unfair review of these two oil painting pastes alongside Cold Wax.
From the blog "Dorlands, Gamblin and SalCera are mixed with good quality odourless mineral spirits, which along with the Zest-it citrus-scented turpenoid are reportedly safer .....".. (false information)
Zest-it is not a "citrus-scented turpenoid" as stated above.
Zest-it is not "reportedly safer", it is safer.
It is not toxic or flammable, which odourless mineral spirits are.
......"mineral spirits or Zest-it dilutent"..... In the same paragraph the 'Zest-it citrus scented turpenoid' has now changed its name to Zest-it Dilutent?
A solvent can be a Dilutant or a Diluent but not a Dilutent which is a spelling mistake!
False, confusing and misleading information for the public.
When comparing products, it is usual to be on a like for like basis, not as the inconsistent comparisons in the 'Textures of Cold Wax' video.
Some Cold Waxes were moved with a strong bladed painting knife, some were moved with a flimsy plastic palette knife and some with a soft bladed knife.
How much helpful 'knowledge' did that share with anyone?
Properly structured comparisons, using the same painting knife when testing, are devised that way to allow the viewer to more easily compare the products.
Misleading information for the public.
The blog also refers to another blog, which can be found below - "Solvent Safety Guide: taking care with oil paint solvents by Julie Caves
This blog also has much false information!

The Glaze section of the review compares mixing different glaze mediums, solvents, particulates, wax mediums and painting mediums with the Cold Waxes, however, each Cold Wax was not mixed with the same media?
It is not a balanced, reasoned or fair comparison of the Cold Waxes because they are not all treated in the same manner!
In this section the reviewer uses 'Zest-it Solvent' which presumably was Zest-it Solvent (Citrus Free) and also Zest-it Wax Solvent, but gives no clear indication of how or which was used in which application?
They will both work in slightly different ways.
Such misleading information.
The reviewer now offers an insight into a very dangerous practice!
"I sprayed solvent on from a spray bottle wiping away the dissolved areas".
This could put the reader in not just in harms way but in danger.
Most of the solvents used in the review are flammable!
Spraying solvent into the air is against all 'Safety in the Studio' principles. Not only does the spray put the product into the air for people to breath, it also can allow the mist from the spray to contact sources of ignition, heat or flame and ignite with devastating consequences.
Dangerous practice - do not do this at home!

No matter what any blog, art teacher, article or writer puts 'out there', for your own safety's sake and that of other people, do not spray flammable solvents.
This blog needs to be taken down or redacted.