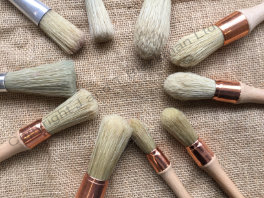 Round Brushes for use with Cold Wax Painting Medium
Brushes are not only excellent for applying the wax/oil mixture, but also for creating texture and patterns.
Cold Wax Painting Medium has substance, therefore, brushes that are full-bodied and open bristled are necessary to hold the wax/paint mixture, without, compromising the functionality.
All brushes in the image left are natural bristle, the filament is strong enough to hold the weight of wax/oil, however, they're also delicate enough to make 'fine marks' and 'lace like' patterns.

These are Pointed Round, Sash and Fitch decorators brushes, easily cleaned and hold their shape.