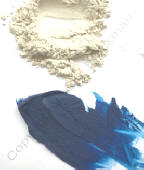 Blue coloured Cold Wax with chalk from above added.


Consistency of Cold Wax with chalk added.
Cold Wax Painting Medium is stiffened by adding chalk or pastel, because, it somewhat dries the wax causing much stiffer paste with more texture. Adding too much can make the wax 'crumbly' and unstable, discretion is needed!
To add a chalk or pastel mixture to a painting, the suggestion would be to have the painting be on a rigid surface, furthermore, use a metal painting knife or similar to apply the mixture, because the wax becomes harder to move and blend.

Test in a separate area, why? Because the chalk can 'dry out' the wax/oil mixture and cause it to crack.

Point to note:- These drying effects of chalk, pastel, marble dust and the like can cause excess drying of the wax/oil mixture, this can causes it to loose its adhesion and it can take on a 'whitish', 'crumbly' appearance that eventually becomes unstable.
Limestone Dust would work in the same way