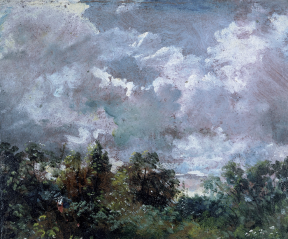 Cloud study, oils on paper.
'From the findings of his studio equipment it would seem he used wax with his oils'
V and A museum abstract review -
......in his letter of 5 January 1825 (Beckett, VI, p.189) Constable writes:
I have enclosed in the box a dozen of my Brighton oil sketches-perhaps the sight of the sea may cheer Mrs F-they were done in the lid of my box on my knees as usual.
Will you be so good as to take care of them.
I put them in a book on purpose -as I find dirt destroys them a good deal.
Will you repack the box as you find it.
Return them to me here at your leisure but the sooner the better". In his letter of [6] April 1825 (Beckett, VI, p. 196)

Fisher speaks of returning the Brighton sketches, and sending with them two volumes of Paley's sermons:
"They are fit companions for your sketches, being exactly like them: full of vigour, & nature, fresh, original, warm from observation of nature, hasty, unpolished, untouched afterwards".