Can Cold Wax be mixed with metallic powders?
The Zest-it Cold Wax Painting Medium can be mixed with many dry pigments and media, including metallic.
Marble, Limestone and Slate Dust, Graphite Powder and Sand are excellent additions to give impasto and character to the work, these can also be added to a gesso to give surface texture as a base for oil and wax painting.
It's difficult to give a fixed proportion of wax to an addition, each person and piece of work is different, add what feels right for your work, be free and experiment.
All our 'additions' are from renewable resources in the UK, our Sand is very fine and clean - be careful what you use!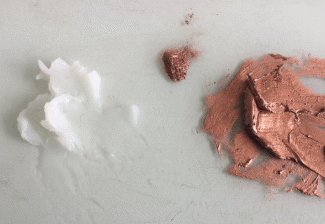 Cold Wax Painting Medium and Copper powder