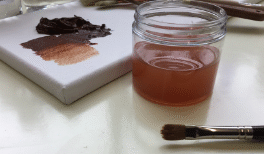 Brushed washed in Wax Solvent
Clean off the worst of the wax/oil mixture with kitchen towel. Wash the brush in Wax Solvent, dry on cloth, repeat as necessary.

Cleaning up
During and after painting there is a need to 'clean up'. After washing in Wax Solvent, the brushes can be dried successfully on the kitchen towel or a cloth.

Wipe knives and equipment clean, if stubborn residue, then add a small amount of Wax Solvent to the cloth to clean up.
The Wax Solvent is non-toxic and non-flammable, it will clean/remove wax and oil paint from surfaces, equipment and canvases.
When used for brush cleaning it can be saved for reuse, allow the fluid to stand so the paint pigment settles out, decant off the clear fluid, it can therefore be reused many times for brush washing.