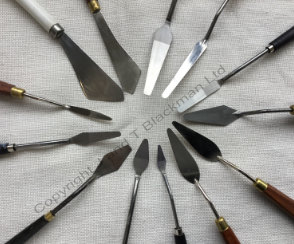 A selection of my own knives
Painting Knives
One of the main tools for use with Cold Wax Medium are Painting knives. These knives are available in a large variety of shapes and sizes, however, knives with a 'cranked' handle are often the preferred type.
The best ones have blades made of stainless steel and the tip of the blade, is thin and has good flex. The image left gives a good idea of the types, styles and makes available.
'Trowel' or the 'Tear-drop' shape are good ones to start with, the 'crank' of the handle keeps knuckles out of the paint.
Knife painting allows for expressive, impasto and texture in your work, learning to use the knife leads to tangible effects and sweeping areas of flat colour.
*Be aware, not all painting knives that purport to be 'stainless steel' are, test the flex of the knife, the blade should spring back to normal, if not, return it!