The Not surface is a little inclined towards Rough and takes most media well, excellent for water media, gouache or ink use and with just enough absorbency for oil and/or wax.
The surface of the QuImp Millboard is unique to Two Rivers Paper Mill, it all depends on the felt used, this uniqueness, gives just that, to your own work.
"... laid onto cloth felts unique to the mill and pressed four times to impart the gorgeous knot texture for which the mill is noted..."
The Millboard is sized both internally and externally, so you don't need to size or prime the paper before use.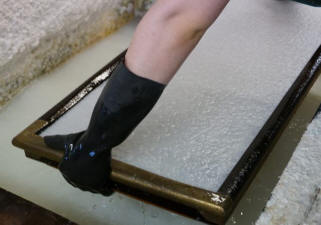 Paper being made at the Mill