Cold Wax with Oil Paint.

Even though it was heat tested as described above, it is not designed for use with heat. Heating wax mixed with oil paint is heating the 'unknown', not a recommended practice. Furthermore, for those wanting to use heat with wax, then it would be better to use 'Encaustic' supplies.


When mixing Cold Wax Painting Medium with oil paint, mix then together, a little or a lot whatever is appropriate. The image right is an example of a single spread of lightly-mixed wax and oil paint.
Mixing the wax and oil paint together before applying is the optimum way, however, the oil paint and Cold Wax Painting Medium can have more mixing, moving and manipulating on the surface.
Use oil paint, oil pastel, dry pigment, but, not water mixable oils or acrylics, water mixable and acrylic need water to work - wax does not!
Adding water via the paint medium will cause a weakening of the painting structure, besides the cracks and potholes/marks in the finish appearance.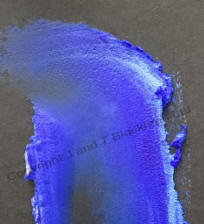 spread of wax/paint